Nutrition
iHerb Customer Smoothie Recipes
September 5 2017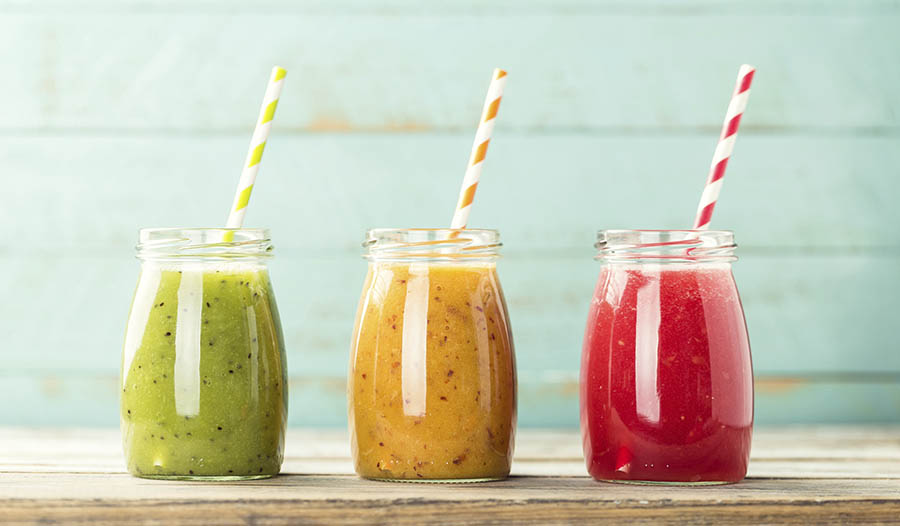 Recently, we asked iHerb customers to share their favorite smoothie recipes featuring iHerb grocery items. Out of multiple entries, we chose the following to share with you. Enjoy!
Greens and Vanilla Protein Shake
1/2 liter non-fat milk or milk of your choice
1/3 scoop Paradise Herbs ORAC Energy Greens
1 scoop MRM French Vanilla Whey Protein
2 tsp. Now Foods Beef Gelatin Powder
mesquite powder, to taste
Mix in blender bottle or shaker cup. Pour in glass and top with fresh fruit, berries or other ingredients of your choice. Drink and enjoy!
- Recipe from Аглая H.
Superfood Chocolate-Peach Smoothie
2 bananas
3 peaches
7 oz water
2 Tbs.Sunfood, Organic Raw Carob Powder
1/4 Tbs. Big Tree Farms, Organic Raw Cacao Powder
1/2 Tbs. Sunfood, Raw Organic Lucuma Powder
Add to blender. Mix and then enjoy!
- Recipe from Lenna L.
Energy Smoothie
1 cup almond milk
1 banana
1/8 Tbs. organic kelp powder
2 Tbs. Madre Labs CocoCeps
1 Tbs. chia seeds
Add to blender. Mix and then enjoy!
- Recipe from Nadi D.
Peanut Butter Maca Smoothie
2 large frozen bananas
1 cup almond milk
1 Tbs. peanut butter
1 Tbs. Navitas Organic Maca Powder
1 tsp. Simply Organic Pure Vanilla Extract
Add all ingredients to a high-speed blender and blend on high until smooth.
- Recipe from Lavina S.
Cathy's Cocoa Antioxidant Smoothie
2 handfuls organic kale or spinach
1 Tbs. flax seed meal
1/4 cup frozen or fresh organic strawberries
1/4 cup frozen or fresh blueberries
1/4 of an organic apple
1/2 a frozen banana
2 tsp. Rapunzel Organic Cocoa Powder
1 tsp. Frontier Naturals Organic Ceylon Cinnamon
1 Tbs. organic unrefined coconut oil
1 scoop of your favorite protein powder
stevia, to taste
coconut milk, to taste
Blend for 30 seconds and enjoy!
- Recipe from Cathy F.
Pre-Workout Shake
1 Tbs. peanut butter
2 Tbs. Walden Farms Caramel Syrup
2 scoops Nature's Best IsoPure Zero Carb Creamy Vanilla Protein Powder
1/2 cup oats
1 cup almond milk
Blend until smooth. Enjoy!
- Recipe from Catherine J.
Tropical Smoothie
1 banana
1 juice of two passionfruit
1/2 a dragon fruit
chia seeds, to taste
1 tsp Nutrex Hawaii Pure Hawaiian Spirulina Pacific Powder
soy milk or your choice of milk
Blend until smooth. Enjoy!
- Recipe from Laeticia L
Bulletproof Banana Smoothie
1 cup black coffee, chilled
1/2 scoop MuscleMeds Beef Protein Isolate Chocolate
8-10 frozen banana chunks
1-2 Tbs. coconut butter
1 Tbs. Artisana Almond Butter
1/4 cup Ice (optional)
Mix all the ingredients except the ice in a blender until there are no chunks. Pour in glass. Add ice cubes, if needed.
- Recipe from Evgeni D.