How to Heal Damaged Hair—Without Leaving Your House
DISCLAIMER
This blog has not been approved by your local health department and is not intended to provide diagnosis, treatment, or medical advice. Read More

This blog has not been approved by your local health department and is not intended to provide diagnosis, treatment, or medical advice. The content provided on this blog is for informational purposes only. Please consult with a physician or other healthcare professional regarding any medical or health-related diagnosis or treatment options. Information on this blog should not be considered as a substitute for advice from a healthcare professional. The claims made about specific products throughout this blog are not approved to diagnose, treat, cure, or prevent disease.
In this article: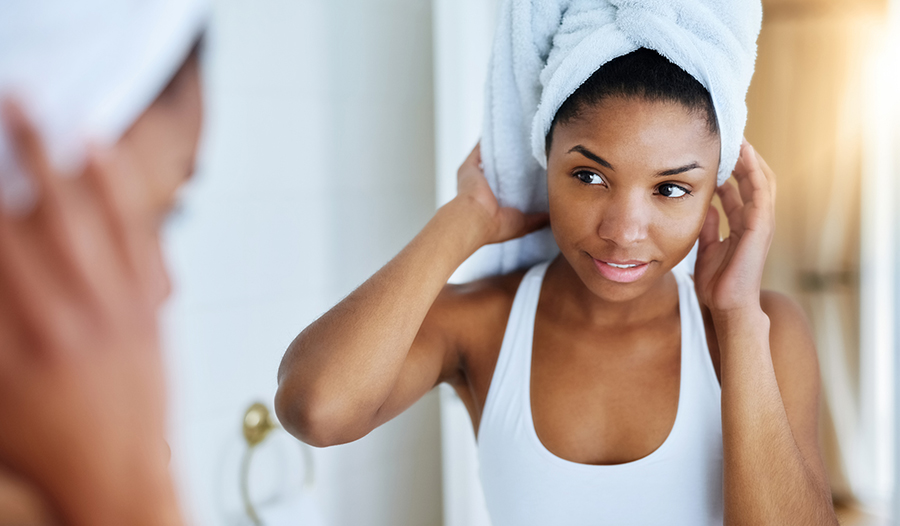 Now that many of us are still at home working and waiting for the world to return to normal, let's spend this time nourishing our hair. First, it's important to remember that what we put in our bodies affects our appearance. Taking a multivitamin, making sure you're getting enough vitamin C, water, sleep, and exercise (which reduces stress), is very vital to your hairs' health. Everything starts from the inside!
Now, what can we do on the outside to nourish dry hair due to chemicals and styling tools with a high heat factor? Here's a step-by-step guide to controlling the one thing we can during this time—our hair.
‌‌‌‌Step 1: Promote a Healthy Scalp with Apple Cider Vinegar
Let's start with the scalp. It's important to keep your scalp clean. A healthy scalp is very important for hair growth. If you think of your scalp as you do your face, you would never go days without washing it, would you? Those follicles need a breathing ground and being suffocated by dirt and oil is not ideal. For a squeaky clean scalp try Phillip Adam Apple Cider Vinegar Shampoo or Pure O'or Apple Cider Vinegar Thin2Thick Shampoo. Due to Pura D'or having argan and castor oil, it's a bit more nourishing as well as cleansing.
Apple cider vinegar makes the hair shiny, so no need to protect those ends while shampooing, which could be a concern with other scalp cleansing shampoos. A good trick to protect your ends while using other scalp clarifying shampoos is to apply conditioner to the shaft and ends of your hair and then apply the shampoo to the scalp. The conditioner will act as a barrier.
If you love your shampoo, but want to work apple cider vinegar into your routine, try WiseWays Herbals Roots Apple Cider Vinegar Hair Rinse. This product helps your roots, hair, and scalp. The thing that blew my mind about this product when I first discovered it is that it contains onion. Wait, what?! It turns out, onions contain sulfur, which may help to support strong hair, may help to prevent hair loss, and may promote hair growth.
This product can be used two different ways. After shampooing and conditioning you would apply a mixture of 1/4 cup of Roots and a cup of warm water to your scalp, massage it in, brush or comb through to the ends, and then rinse lightly. If you are crazy busy, simply pour a capful of WiseWays Apple Cider Vinegar onto a brush and brush it into your hair and scalp. That's it!
‌‌‌‌Step 2: Nourish Your Hair With Amla Oil
Have you ever heard of amla oil? It will rock your world. It has tons of vitamin C, flavonoids, and natural antioxidants. It may help to reduce dandruff, may promote hair growth, and (hold on to your hats) it's even been touted as a potential preventative measure for the graying of hair! It may even help to stimulate growth when applied to the eyebrows.
A great product containing this amazing oil is Himalaya Anti-Breakage Hair Oil. Not only does it contain amla, it also has thistle, which may help to reinforce those weak strands. Apply this oil to your scalp and hair, comb it through, and then massage it into your scalp. Next tie your hair up and leave it on overnight and then shampoo in the morning. If you are concerned about getting oil on your pillowcase, do this in the morning. Then, you can simply slick your hair into a tight bun or a fancy braided pony wrapped into a bun and you are ready for that Zoom call. No one will know you are multitasking with a hair treatment at work!
‌‌‌‌Step 3: Hair Masks and Treatment for Specific Hair Types
While apple cider vinegar and amla oil are good for all hair types, there are some specific treatments you may want to consider based on your unique hair composition.
Treatments for Fine Hair
Let's start with the fine hair people out there who hear the word deep conditioning or mask and get nervous it will weigh their hair down. Marula oil nourishes the scalp and is also good for fine hair. It traps moisture, may help prevent breakage, and may strengthen the hair, and it's lightweight and fast-absorbing. I recommend InstaNatural Organics Marula Oil because you can also use it on your face.
A hair mask I like that contains marula oil is by Andalou Naturals, Exotic Marula Oil Deep Conditioning Hair Mask. This product also contains aloe, which may improve the health of the scalp and may make the hair follicle healthier and stronger. Apply this to clean, towel-dried hair from roots to ends and leave on for at least five minutes.
Treatments for Medium-to-Thick Hair
If your hair is medium to thick—but not coarse—and needs extra moisture, argan, avocado, and olive oil are great! Nature Republic Argan Essential Deep Care Hair Pack is fabulous. Because this product is heavier, you will want to only apply it to clean, towel-dried hair from your mid-length to ends. If you don't have a plastic cap to cover your head you can wrap it with saran wrap.
Earth Science Deep Conditioning Hair Masque is fantastic for this hair type, especially when combined with their Super Concentrated Olive and Avocado Shampoo. Olive oil and avocado oil are not considered high penetration oils, so you can apply this from roots to ends on clean, towel-dried hair for 15 minutes.
Treatments for Dry, Coarse Hair
If you have dry, coarse hair, then coconut oil and amla powder should be your new BFFs. Coconut oil by itself makes a great hair mask, but you can mix it with amla powder for even more nourishment. If you're not a DIYer, you can try Pure Body Naturals Coconut Oil Deep Hair Mask, which also contains shea butter and vitamin E. To use it, apply it to clean, towel-dried hair from roots to ends and leave it on for 10-15 minutes.
Coconut oil may also help to protect your hair from the drying effects of the sun. If you have curly hair, try this as a styling tool to let hair air dry beautifully: apply a small amount of coconut oil, comb it through, and then layer it with Jason Natural Flaxseed Hi-Shine Styling Gel. Then, either scrunch or twist the hair for more defined curls and let air dry.
Paying special attention to your hair while you're stuck at home will ensure that it's shiny and healthy when we get back to normal—or move forward into a new normal. Now that you have your hair prescription, fill it, and start nourishing your hair from scalp to ends.