We Can't Stop Multi-Masking, and Here's Why
DISCLAIMER
This blog has not been approved by your local health department and is not intended to provide diagnosis, treatment, or medical advice. Read More

This blog has not been approved by your local health department and is not intended to provide diagnosis, treatment, or medical advice. The content provided on this blog is for informational purposes only. Please consult with a physician or other healthcare professional regarding any medical or health-related diagnosis or treatment options. Information on this blog should not be considered as a substitute for advice from a healthcare professional. The claims made about specific products throughout this blog are not approved to diagnose, treat, cure, or prevent disease.
In this article: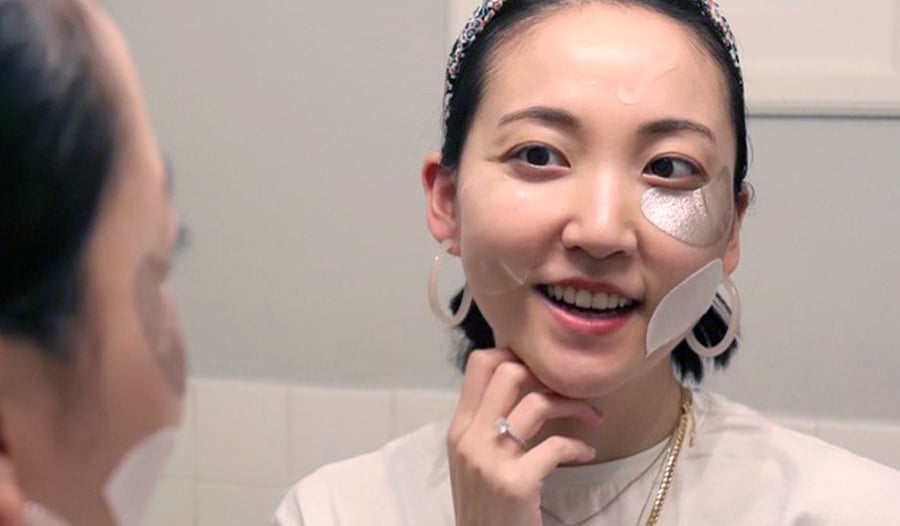 When it comes to masking, there is no one-mask-fits-all approach. Different areas of your skin have different needs, so if you really want to make the most out of a masking session, it is important to give each area exactly what it is craving.
Here is how I multi-mask for my skin type and different areas of my face. This of course changes with the seasons and hormonal fluctuations.
Masks for Congested T-Zone
I have combination skin and in the summer time especially, my T-zone gets extremely congested. I need a purifying mask that will help decongest and draw out the impurities that build up more in this area. After you get the impurities out, you have a clean canvas to work with to actually extract your blackheads; it makes the job much easier. Masks with kaolin clay are very effective at drawing out impurities, like the Innisfree Jeju Volcanic Color Clay Mask.
If you have dry skin, clay masks can sometimes feel too drying. For this skin type, I would opt for a more gentle mask like the Skinfood Egg White Pore Mask. Another great option is the Pixi Beauty T-Zone Peel Off Mask that contains aloe, seaweed, green tea and avocado and feels soothing on the skin.
I would only use these types of masks twice a week max. You want to give your pores time to tighten instead of getting in the habit of always going in with a mask and doing the job for them.
Masks for Dry Cheeks + Hyper Pigmentation
My cheeks are where I experience hyper pigmentation, redness, and the most dryness. In the winter, when my cheeks are especially dry, it can be difficult to apply makeup on flaky, dry cheeks. That is when I go in with a mask that is plenty hydrating, infused with ingredients such as hyaluronic acid and hydrating antioxidants. My favorite ingredients in masks (and skincare in general) are honey and propolis. They do miracles for my dry and sensitive skin by replenishing it with moisture, leaving my skin so supple. I have always been a fan of I'm From Honey Mask.
In the summer, I experience more redness and hyperpigmentation than dryness in my cheeks. This is when I go in with those masks with soothing and brightening ingredients. The Dear, Klairs, Freshly Juiced Vitamin E Mask is perfect for that; it has niacinamide to brighten, vitamin E to protect your skin barrier, and adenosine to soothe your skin. It's a gel-like cream that you can either use as a wash off mask or leave it on overnight—so multi-purpose, I love it!
Masks for Dark Circles
Ah, the forever battle with dark circles… The fact is, putting on a hydrating mask is not going to cut it in that department. And you should definitely not be applying an exfoliating mask in your eye area. You need a more targeted treatment.
Whether I am face zone masking or using sheet masks, I always make sure to use a separate eye mask for the eye area. It's important to choose one that isn't irritating, especially since the eye area is very delicate. I have been using the Pixi Beauty Skintreats FortifEye Firming Eye Patches. They've got collagen and peptides, as well as caffeine—the perfect trio! Caffeine in eye products is key for me—it does wonders for my dark circles and puffiness.
Another favorite that is more targeted to brighten your under eye area is the Jayjun Cosmetic Green Tea Eye Gel Patch—it's formulated with green tea leaf powder and niacinamide, perfect to brighten and soothe.
Masks for Chin Acne
Hormonal acne is real and I find that most women tend to break out in their chin area more than anywhere else. And those acne scars and dark spots linger on for a long time if you don't treat them well. For spots where you are breaking out, you want to make sure you don't over-exfoliate and instead go in with masks for sensitive skin.
Applying any harsh ingredients can do further damage to blemished skin. That is why I go in with calming rescue masks like REN Skincare Ever Calm. It's got a blend of calming oils to help your skin cope with stress as well as ingredients to help build a stronger skincare barrier. Another great option is the I'm From Mugwort Mask—mugwort is known for its calming abilities.
Masks for Chapped Lips
Lip care should also not be neglected. My lips in the winter are SO dry and chappy and sometimes, lip balms are just not enough. Apply a lip mask like Dear Packer Plum Seed Sleeping Lip Mask to take your masking game to another level.
Sleeping Masks
Lastly, after you wash your masks off and are ready for bed, you can wrap your face in a hydrating sleeping mask. I personally adore the entire Jeju Orchid line from Innisfree and their sleeping mask is a dream. It's got their patented orchid extract and lavender oil to strengthen and firm up your skin overnight and you'll wake up to healthier looking skin!
That's a wrap for face zone masking! Create your own routine around what your skin needs. For example, if you don't have breakouts on your chin but suffer from clogged pores, extend your clay mask from your nose to your chin area.
And remember, check how long you should be using each mask for. If you are using an exfoliating mask on your nose and a hydrating mask for the rest of your face, you should probably leave the exfoliating mask for just 5-10 minutes and the hydrating one for longer. The last thing you want to do is overdo your masks and make your skin condition worse. Happy masking!